Agar Aura @Vietnam Chapter 2
I will start Chapter 2 with another confession: I'm too much of a perfectionist for my own good. My mother often laughingly remarks to others that when I was a kid I obsessed about every little thing being just right, and she loves giving a particular example: the tissue peaking out of the tissue box on the living room side table had to be sticking out just the right amount, at the right angle, and with weighted aesthetic symmetry.
Why this is relevant will be touched upon further below.
Mr. Đức showed up at the hotel a little before noon, to pick me up to go and inspect the raw materials.
I was ready. I had burned a LOT of Vietnamese agarwood at home before the trip, to train my nose to 'memorize' all the signature notes of Vietnamese agarwood. Like Cambodia and Laos, the majority of what's sold as local wild agarwood is actually either smuggled in from other countries, or is cultivated stock. Wild Vietnamese wood can fetch significantly higher prices so its no surprise that a whole lot of agarwood is portrayed by sellers as being that.
We pulled into a rundown shady looking alley, sparsely speckled with old grandmothers and kids 'Asian Squatting' (yes, that's a thing, google it) along the sides of the road, nibbling on noodles chopsticked out of containers of questionable hygiene. Mr. Đức pulled out his keys and unlocked a door. Stepping inside, the room looked like one of countless such places I have been in. Suppliers often keep a small 'office' in the city, where they store part of their stock for international clientele.
Without wasting any time, he flipped open his pocket knife and began cutting open the boxes of agarwood that had been collected for me. I was right behind him. I started going through all the bags. Impressively enough, almost all of it was indeed wild Vietnamese agarwood, there was no mistake about it. But I say 'almost', because I did see some plantation wood in some of the bags. Mr. Đức explained that it was not intentional because the guys mostly deal with plantation agarwood (and all at the same location), so some of it accidentally made it into the bags.
It makes sense. Vietnamese agarwood is fully extinct, and has been for quite some time now. So there is no industry here for the wild stuff, just the cultivated variety. Getting wild agarwood entails somehow finding stumps of trees that were harvested a long time ago – not an easy task. In dense jungles with lots of tall trees, its a difficult thing to do. Aside from the uniquely beautiful scent of Vietnamese agarwood, the difficulty in getting wild wood is part of the reason why its so much more expensive compared to wild wood from other parts of the world. Want an actual example? Get this: A-grade Vietnamese agarwood costs the same as Super King-grade Malaysian agarwood.
Most of the wood was utterly useless. Not only was it bunk wood, it was extremely expensive bunk wood. But there were some other grades which were pretty good. They displayed all the beautiful qualities of genuine wild Vietnamese agarwood, but as you can imagine they were even more expensive than the bunk wood, and understandably so.
Now here's something interesting about Cambodian, Laotian and Vietnamese Crassna agarwood you might not know. Virtually all the genuinely authentic wild harvests from these countries nowadays come from tree stumps left behind from older harvests (some even centuries ago!), i.e. from dead trees, and often from underground parts (i.e. roots) of the trees and buried chunks.
From a purely visual point of view, the wood may look inferior. Certainly no Arab today, as heavy as his pockets may be with cash, would look twice at such wood. And yet, some of the most expensive agarwood in the world (some, specifically Vietnamese kyara, costing over $7,000 per gram!!!) is of this nature: buried underground, wood fibres disintegrated over the years, and the oleoresin having undergone some unique form of oxidation which leaves the wood looking visually dull and 'gray'… but exploding to life as soon as its heated.
As a side point, its interesting to note that medieval Arabic texts mention prolonged underground burial as a prerequisite for high grade agarwood. Ironically nowadays, stemming from the relatively recent Indian technique of polishing wood chips with waxes, most of our Arab wood wholesale clientele (and pretty much the standard Arab requirement is to) want their chips glistening.
After deciding on the batch of wood to be used for distillation, we got ready to head to the distillery, made a quick stop to grab a bite, and then proceeded on. Had I known how far away we had to travel (close to the southwestern Chinese border!), I would have gone to the bathroom.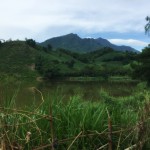 So naturally the trip took forever, and I really really wish Mr. Đức told me it would take this long because as it turns out… the trip was a complete waste of time.
Without exception, the distillery was the absolute worst I've ever seen in my life. Piles of cultivated lying around, dogs running wild all over the place, and the actual distillation equipment, oh.. don't even get me started on that. Ancient, rusty, filthy, mould and fungus growing everywhere, and perhaps worst of all: rubber pipes attaching the various components of the distillation setup. A BIG no-no.
Let's go back to the beginning of this blog post. I'm a perfectionist when it comes to just about everything, and especially when it comes to oud distillation. Sure, there are certain things which I can overlook when there are no other alternatives, and do the best with what I'm given. For example in this case, by using an alkaline solution to thoroughly strip and clean the inox apparatus I could ensure a pristinely-clean distillation run. The rubber piping could be replaced with welded inox connectors, the ancient inefficient condenser could be replaced, the collector (literally a bucket) could be replaced with a Pyrex collector. Basically everything could be fixed.
But was it worth it? Pretty much everything about everything here was wrong. And given the scarcity of wild Vietnamese agarwood, the cost to revamp this place just wouldn't be worth it.
If you haven't already memorized Agar Aura's mantra by now, I'm going to repeat it. High grade oud oils are a result of 3 factors: (1) high grade raw materials, (2) the best distillation apparatus, and (3) the best distillation techniques.
Here, the apparatus is so bad, that using it for distilling the raw materials I had chosen would be no less than a crime. Like getting the finest sushi-grade tuna and then cramming it into tins for grocery stores. Or throwing a Yubari melon into your blender for making a mixed-fruit cocktail.
In the end, I decided it just wasn't worth it. I was pretty dejected. Vietnamese oud was my holy grail, I've long craved adding it to my resume. I couldn't come to terms with the fact that I had finally found excellent raw materials, but couldn't do anything with it.
I ended up checking various other distillation plants as well, and they all had issues. You see, my unique distillation techniques go hand-in-hand with my firm requisites for the distillation setup. By combining the two, oil yield 10 times higher compared to typical distillations can be achieved. This is why I was able to use the kind of high quality of wood that I did for oils like Berkilau, Ketenangan and Raksmey. And this is why these oils are packed with so much 'punch'. The higher yield not only lowers the cost per gram, but it also increases the richness of the aroma.
If I was to use the apparatus available at these distillation plants here in Vietnam, then applying the best possible extraction techniques would be impossible, and I would expect a more typical yield…. a yield that would produce just a handful of bottles, each costing around $10,000.
So the sad news is that it looks like there won't be any Agar Aura distillations conducted in Vietnam.
But I have good news: I resolved I cannot let this wood slip through my fingers. I've decided I will distill it in my own apparatus in Pasir Panjang, Malaysia, which is simply the best in every way imaginable (if you've smelled Pencerahan and Berkilau, the proof lies in these 2 oils).
Ultimately, the only bad news is that according to my projected yield estimate, the maximum quantity I can extract is about 25-30 bottles' worth, due to the limited quantity of wood that is available (folks, we're talking scarcity comparable to the last dodo's last egg). In that sense, I think this oil will be like a shooting star. Expected to blaze in glory for a few moments, and then quickly disappear (i.e. sell out very quickly).
But however long it lasts on the website, I know this would be my proudest achievement, and most prized possession.
And for once, an oil that I keep a bit of for myself as well.
So that's all for now folks. I will leave you with one last photo of the trail to that horrid distillery up in the mountains. Imagine trekking (in SE Asian heat) for 4 miles through those muddy puddles, in Birkenstocks, and white pants (what was I thinking…).
I still haven't fully forgiven Mr. Đức for not having warned me about the distance, the inconvenience, and most importantly just how bad the apparatus was.
But if he's able to find more wood like this for me, I suppose that would warrant forgiveness, right? : )