I have been getting a lot of requests from many of you, asking to share some details from my recent trip to the East.
One of the things that I had been hoping for was some good news from Cambodia, but things are looking pretty dismal there. On the bright side though, one of the distillers just recently got a concession for 500,000 acres in a jungle in Koh Kong in Cambodia. If something turns up, I will certainly try to avail the opportunity!
But for now, it wasn't worth it to go to Cambodia/Thailand.
One of the big changes this year was switching distillers in Indonesia. I will soon be releasing 2 beautiful Borneo oud oils, and will hopefully release a third oil from a different island later, currently under production. The distiller commands his own team of gaharu hunters, and the wood for one of the oils is from none other than the very region where he resides, which he knows like the back of his hand. The same region as the wood used for distilling one of AgarAura's finest Borneo Oud, East Kalimantan LTD. This allows him to collect very high grade wood from this region.
But without a doubt, the most exciting news for 2013 is the discovery of another ancient wild tree in Malaysia, estimated to be around 85-100 years old. Spotted near the Pahang-Kelantan border, it was so deep in the thick of the jungle that as much as I would have loved to, I did not dare to go to the actual site.
And it turned out to be a wise decision – the team of gaharu hunters encountered a tiger which naturally gave them quite a scare and prompted them to carry a pistol henceforth.
One of the things that fascinates me about agarwood harvesting in Malaysia is that different people, who otherwise would be considered 'competitors', all come together and they pool their resources for the hunt. This is in stark contrast to other places, where its a case of 'finders keepers' – and quite frankly is something one would expect in this day and age when wild agarwood trees are getting increasingly hard to find. In Malaysia, however, such collaborations are quite common.
Due to the weather conditions and the difficulty of transporting the wood back to the distillation plant, distillation has not yet started. But even as I type up this blog post, I am getting updates from the distiller.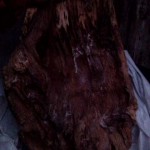 In fact, the photo to the right is one that I just received a few hours ago, of a massive chunk that was uncovered as one of the hunters chopped away at the felled tree. Although it is difficult (and unwise) to grade the wood quite yet due to the high moisture content in the wood at this stage, its evident that this harvest was a success and yielded some incredibly high-grade heartwood.
Due to the weather and logistical problems encountered, I've had to put up with lots of delays. But the wood is now almost ready to be transported to the distillation plant, and distillation is planned to commence in about 2 weeks.
1 stainless-steel hydro distillation.
1 copper hydro distillation.
Lots of eye candy to come.
Stay tuned!