Sitting for my 3-mango breakfast ritual this morning, it dawned on me: it was exactly 2 years ago that I first came to Sri Lanka for oud distillation.
Its amazing how much has changed here since then (don't forget to read Part 1 and Part 2).
Back then, if you talked to the right guy, you could even get Super King grade agarwood the size of your forearm for $1,000 per kilo. There simply wasn't a proper grading and pricing system in place, so you could get the deal of the century… and on the other hand you'd also find some clueless dealers trying to peddle bunk wood at astronomical prices. For the most part, they had no idea how to price the wood.
Today, a Super King grade chunk the size of your forearm will set you back well over $70,000 per kilo. The dealers are now aware of the international market prices, and are (a bit) better at distinguishing different grades of wood.
The bad news is that I missed the opportunity to cook some awesome oils for a fraction of the price. The last time around, greed, bribery, and unethical business practices crept into the picture, and they are a big no-no for Agar Aura, so everything I had done in the past amounted to… literally nothing (incidentally, I recently found that the distiller I trained is now supplying to other vendors now).  : /
But the good news is that there's still plenty of awesome agarwood here.
True, you can immediately sense that overall there's been a sharp drop in quality in recent times (the 'great extinction' in the rest of South East Asia has sent the Arabs and Chinese flocking to Sri Lanka, depleting the upper-echelon agarwood at an alarming rate), but compared to other countries the situation is still better. In my opinion, Sri Lanka is probably wild agarwood's last frontier. Meanwhile, there are a few agarwood plantations here up and running now. Hopefully the owners don't go the route taken by most (using the CA inoculation kit, or other chemicals to trigger the production of oud oleoresin); I've tried my best to convince 3 folks involved in plantation efforts against the use of chemicals, hopefully they'll heed my advice.
As usual, I trained them with Agar Aura distillation methods pro bono (hey, trying to do my part for the future of oud).
But let's back to wild agarwood…
"Mr. A" (yep, same first letter in his name as the last guy) requested that I don't disclose his name. Although things are nowhere as crazy as they used to be some years ago (moving agarwood was treated almost the same as drug trafficking) nor is he directly involved in the harvesting of the wood, he still doesn't want to take any risks. We are currently operating in a loophole in the system where CITES and the local law of the land overlap, and hope to pump out as much oil as possible during this time, while avoiding any involvement in illegal activities, bribery, and unethical harvests. The moment that loophole is sealed up, I'll have to throw in the towel.
Mr. A had already prepared numerous batches of wood before my arrival, ranging from Arab market grade materials all the way up to the top-of-the-line high grade wood, the type used for the crafting the finest Agar Aura oils.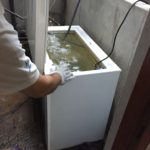 He faced a lot of obstacles getting the apparatus into Sri Lanka (which was detained at customs for about a month), and of course getting an operational distillation facility up and running is no easy task either. But he did an excellent job of getting things up and ready, so after I arrived I was delighted to notice that everything had already been set up so well that there were hardly any modifications that needed to be made. The system in place here is one of the best I have worked with.
There was an unexpected problem we had to deal with: the power outage issue. Just days before I arrived, there was a major breakdown at the power plant here, which resulted in power outages. So we had to design alternate pathways (inverters and a generator hooked up to a spare pump) for maintaining the flow of water going into the condenser, which we'd have to switch to asap, if and when the power went out.
Long story short, armed with 2 handymen, Kumar and Roshan, we were able to tackle every possible issue that could possibly arise.  : )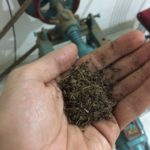 Now keep in mind, unlike the rest of the oud-producing world, in Sri Lanka there is no oud distillation industry in existence. A decade ago, hardly anyone even knew what agarwood was.
So, needless to say, I had to teach Mr. A how to distill, from scratch. He's proven to be an excellent student, and I've given him all the guidelines he needs so he'll be able to run distillations in my absence as well. Agar Aura's Gen3 and Gen4 distillation techniques literally look like algebra equations on paper. For the first couple of batches, I have to assist him every step of the way, to demonstrate how the theorems are implemented in practice. But I'm making him do everything himself though, as I watch.  ; )
The poor guy's hands are blistered, his palms tender and swollen. He told me he had no idea it would be this tough just processing the wood. As consumers, we tend to forget that agarwood oleoresin forms in patches inside the tree. Well guess what… you have to carve through the entire body of the tree to get to the resinated patches.. not an easy task! Those of you who've been to my place and seen me processing wood with my parang, chisel and axe, know what a difficult task it is.
Then comes the soaking, the washing (ouch!), and loading of the wood into the distillation pots.
And let's not forget about the day-and-night monitoring of the pots… not exactly an easy task either.  ; )
In short, Mr. A realized just how much work it is to make oud oil. He's loved oud for a long time… but, like any person who's appreciated oud as a consumer up until recently, I think he's only now realizing just what it takes to craft these precious elixirs.
Add to that the fact that Agar Aura has so many stringent quality control measures for every step of the process, we're talking a very steep learning curve.
When it was finally time to light the fires, I glanced at Mr. A. His earnest face expressed equal parts anxiety and excitement.
I'm sure mine was the same.
After 2 whole years of waiting, Agar Aura's first ever Sri Lankan Walla Patta oils were finally being born.
A momentous occasion indeed!
As I smell the two oils currently under production, the enchanting aroma rising from the small dabs smeared on each forearm spinning my mind, I can assure you: it was well worth the wait.
Here is a short video of the two oils, coming to life: